Colorado is ideal for outdoor enthusiasts and those seeking adventure and various fun things to do. A difficult yet gorgeous terrain with snowcapped mountains, gushing rivers, and spectacular valleys is worth exploring. Cities such as Denver, Boulder, and Colorado Springs, on the other hand, offer a taste of culture. While you may think of Colorado as primarily a ski destination, there are lots of exciting things to do in the state at any time of year. In the spring, the weather is ideal for hiking in one of the state's four national parks, and in the summer, you can cool down in one of the state's many beautiful lakes. Colorado also stands out because of its numerous annual festivals, breweries, and old mining towns. It can be tough to pick how to spend your time in the state because there is so much to do. Continue reading to learn about the best things to do in Colorado. (Please note that the coronavirus outbreak may affect some trips and excursions.) New policies, such as capacity restrictions and parking reservation requirements, may be implemented. Before traveling, consult the Centers for Disease Control and Prevention, the US Department of State, and local tourism boards.)
Colorado offers a diverse range of activities throughout the year. These Colorado vacation ideas will fill your travel plan to the brim with family activities, national parks, and outdoor adventure, as well as cosmopolitan cities and inviting communities, and teach you how to genuinely Come to Life.
Read: 40 Best Places to Visit in Kathmandu
The Mountain West Museum
The Museum of the Mountain West is a great site to visit if you're a history fan seeking fun things to do in Colorado. It's a fantastic collection of Old West structures and artifacts. You can really appreciate how much Colorado has progressed while you're here. This museum, which is packed with fascinating antiques from the Old West, makes you feel as if you've been transported back in time. This is your chance to experience life in an authentic Old West bar.
If you're a true history buff, this is the place to see in Colorado. You'll get information in the most efficient way possible. The Museum of the Mountain West, located in Montrose, Colorado, allows you to have a lot of fun while also learning a lot. It's open from 8:30 a.m. to 4:30 p.m. Monday through Saturday.
Individual admission is $15, $12.50 for couples, military personnel, and seniors, and $5 for children aged 6 to 18.
Location: 68169 Miami Rd, Montrose, CO 81401, United States
Relax at Glenwood Springs' hot springs
Glenwood Springs is a small town on the Colorado River that is surrounded by the Rocky Mountains. The town's famous mineral waters come from the neighboring Yampah spring, which naturally heats to around 122 degrees. There are three primary sites in town where people can experience the hot springs. The world's largest hot springs pool, at Glenwood Hot Springs Resort, is large enough for tourists to swim laps in the 92-degree water. It is a family-friendly location that does not require reservations. Iron Mountain Hot Springs is another choice, with a calmer environment, 16 soaking pools connected by heated walkways, and rain showers to keep visitors cool when needed. Remember that reservations are required, and weekend entry is frequently sold out, so make sure to reserve a time slot ahead of time. Another thermal attraction in Glenwood Springs is the Yampah Spa and Vapor Caves, which is one of the continent's only vapor caves. Visitors can enjoy the therapeutic steam produced by this underground area by descending into the caves and relaxing on the seats. The caves' interior temperatures can reach 112 degrees, although visitors can cool off in the neighboring cooling room or cold water spas. Reservations are recommended but not required for the caves. A spa section is also available, where you may get body treatments such as facials and massages.
Location: 401 N River St, Glenwood Springs, CO 81601, United States
Pizzeria Della Strada is fantastic
Coming to Colorado will give you a true experience of Italy. The Italian restaurant Brava Pizzeria Della Strada in Denver will have you saying "bravo." When you visit, you'll quickly see why it's regarded as one of Colorado's top pizza destinations. For both curation and flavor, this restaurant's pizza adheres to Italian heritage.
Its wood-fired cooking process enhances the flavor tremendously. Meatballs and stuffed dates are two antipasti choices that should whet your appetite. The only tough aspect will be avoiding the urge to inquire about their cooking methods. Brava Pizzeria Della Strada exemplifies how good Italian food can be in Denver.
You don't want to miss out on this opportunity to dine. Hours of operation should be confirmed with the various locations.
Location: 3200 N Pecos St #102, Denver, CO 80211, United States of America
Mesa Verde National Park
It's not often that beautiful hiking sites also have a rich history, but Mesa Verde has both. This national park contains a collection of well-preserved cliff houses created by the Pueblo people centuries ago. For many years, the Ancestral Puebloans lived and worked in these cliffside apartments before abandoning them in 1300. Thousands of travelers flock to the southwest corner of Colorado each year to see the ruins of this ancient civilization. Make time to see Cliff Palace, which is one of the park's largest and best-preserved structures. On your guided tour of the palace, you'll view 150 rooms via navigating difficult walkways and climbing a few ladders. In addition, there are numerous hiking paths in the surrounding area. The modest Point Lookout Trail (2.2 miles out and back), which offers magnificent vistas of the park, is a visitor favorite. The Petroglyph Point Trail (a 2.4-mile loop) is extremely popular because it allows visitors to see petroglyphs carved into the canyon walls.
Location: Mesa Verde, CO, United States
Great Sand Dunes National Park and Preserve
Great Sand Dunes National Park and Preserve is a great place to go surfing. While there are no typical surfing opportunities in landlocked Colorado, you can still try your hand at the sport. Enter the sport of sand surfing. Visitors may surf down the gigantic dunes at Great Sand Dunes National Park and Preserve with a sandboard, comfortable clothing, and a little guts. Keep in note that the park does not have any board rental facilities; instead, you'll have to rent from a shop in the nearby San Luis Valley. The nearest rental store is Oasis Store, which is 4 miles from the entrance. The finest boards to acquire are those created expressly for sand — snow sleds and snowboards will make it difficult to slide. Sand surfers can travel a little more than a half-mile from the main parking lot to reach some decent-sized dunes. Surfing is allowed anywhere on the dunes except in vegetated sections, so those looking for bigger slopes can walk a little further. Sand sledding is a good alternative for those who like to sit rather than stand. The Great Sand Dunes National Park and Preserve is open 24 hours a day, seven days a week; admission is $25 per vehicle, and there is no need to make a reservation. There are also numerous additional activities within the park, such as hiking and swimming at Medano Creek.
Location: Great Sand Dunes National Park and PreserveColorado, United States
Cartopia Museum of Art
If you're driving through Colorado and stumble across the Art Cartopia Museum, you'll have no choice but to stop and look around. This is one of Colorado's most unique museums, as well as one of the most entertaining. It's fascinating to get a peek of cars you would only have imagined in your wildest thoughts.
The Art Cartopia Museum is one of those tourist attractions that can only be found in the United States. Psychedelic decorations adorn automobiles, making them appear bizarre. One has a large skeleton on it, while another has a giant head of Albert Einstein on it. If you're a gearhead, it's undoubtedly one of the most stunning sites of interest.
Even if you aren't, this is a location where you can be completely entertained and delighted. The Art Cartopia Museum in Colorado is a must-see for everyone looking for a unique experience.
It's open from 10 a.m. to 5 p.m. Tuesday through Saturday.
There is no admission fee.
Location: 2702 Freedom Rd, Trinidad, CO 81082, United States
Amphitheatre at Red Rocks
Come to Red Rocks Amphitheatre if you want to see music that actually "rocks." This Colorado outdoor venue not only hosts some of the best concert artists but also does so in a unique way. If you want a one-of-a-kind concert experience, this is the place to go.
Red Rocks Amphitheatre, which is made of real stones, produces a listening experience that makes your favorite bands sound better than you ever imagined. It's one of the most well-known live music venues in the state.
Going to Red Rocks Amphitheatre elevates an enjoyable experience. Bon Iver, Tyler, the Creator, and Vampire Weekend have all performed at Red Rocks Amphitheatre in recent years. It's an incredible atmosphere to be in, especially when you're surrounded by so many other fans.
Check out the Red Rocks Amphitheatre's schedule to see if there are any shows you should not miss. A live musical setting is likely to blow you away in ways you didn't realize were possible.
Location: Morrison, CO 80465, United States of America: 18300 W Alameda Pkwy, Morrison, CO 80465, United States of America: 18300 W Alameda Pkwy, Morrison, CO 80
Any concert experience will be elevated by a visit to Red Rocks Amphitheatre. The bleacher-style chairs are cut into the edge of a cliff and are encircled on three sides by massive sandstone constructions. The acoustics of the theater are praised by visitors as one of the nicest and most distinctive settings to see a live performance. Concerts are often held between April and November, and you may check the event calendar to see when your favorite musician is due to appear. Even if you are unable to attend a performance, Red Rocks is a wonderful spot to visit during the day. The simple Trading Post Trail (1.4 miles) and the intermediate Red Rocks and Morrison Slide trails are all within walking distance of the concert location (3 miles). You'll also get panoramic views of the surrounding area from high up in the stands. On certain summer nights, the venue hosts drive-in movie screenings. Make time to visit the Red Rocks Hall of Fame to learn about the notable performers who have performed here. The arena, which is conveniently located around 15 miles southwest of Denver, also houses the Colorado Music Hall of Fame.
Buffalo Bill's Grave and Museum
The Buffalo Bill Museum and Grave, another Old West museum in Colorado, educates visitors about one of the American West's most renowned personalities.
Buffalo Bill (William "Buffalo Bill") Cody was an expert marksman, but there's a lot more to his tale than that. This is one of the top Colorado attractions for learning about a historical figure in depth. Buffalo Bill was a legendary person in the Old West, with a name derived from his buffalo-catching abilities.
He died in this state, and the Buffalo Bill Museum and Grave serve as a reminder of how significant his legacy is.
Coming here is undoubtedly one of Colorado's most enjoyable activities. It might pique your interest in learning more about Buffalo Bill or watching a documentary about his life. He left behind an excellent story that will hopefully be passed down through the generations. The Buffalo Bill Museum and Grave offers a wealth of information on one of the state's most fascinating figures.
It's open every day from 9 a.m. to 5 p.m. during the summer. Adults pay $5, pensioners pay $4, and children aged six to fifteen pay $1.
Location: 987 1/2 Lookout Mountain Rd, Golden, CO 80401, United States
Rocky Mountain National Park Hike
Every year, millions of tourists visit Rocky Mountain National Park to experience its diverse paths and breathtaking views. The park has magnificent peaks, 147 clean lakes, and a diverse range of species. Hikers of all levels of expertise will enjoy the 355 miles of trails. The park's flat lake routes, such as Lily Lake Loop, Sprague Lake path, and Lake Irene trail, are recommended for novices. Intermediate climbers will appreciate the 4.1-mile Emerald Lake track, which has a 745-foot elevation gain, or the 9.8-mile Sky Pond out-and-back route through the Glacier Gorge trail, which offers views of snowcapped peaks. Longs Peak is a 14-er (a peak that rises above 14,000 feet) with a nearly 5,000-foot elevation increase intended for adventurous and very talented hikers ready to get up early and carry plenty of gear. Chasm Lake is a short but challenging trail in the Longs Peak area. Climbers will pass through meadows, streams, and picturesque mountains on this 8.5-mile round-trip trek. Rocky Mountain National Park is close to Estes Park, a charming town with a variety of food and hotel options. The park's entrance fee is $25 per vehicle.
Location: Rocky Mountain National ParkColorado, United States
Denver
The Mile High City is one of the best places to visit in Colorado, with educational museums, fashionable restaurants, historical landmarks, and breathtaking views. Most travelers recommend visiting the Denver Art Museum, the Museum of Contemporary Art Denver, and the Denver Botanic Gardens for a taste of culture. The Denver Zoo, as well as the Denver Museum of Nature & Science, are excellent places to visit with children. There are also a variety of unusual tour options available, such as brewery expeditions and graffiti tours, to help you get the most out of your visit to the city. You may also plan a picnic in City Park, which has views of the surrounding mountains and plenty of space for the kids to run around for a low-cost activity. When the night falls, take a stroll into Larimer Square, where you'll discover breweries and bars. Great Divide Brewing Company and Ratio Beerworks are two of the best-rated breweries. The busy nightlife scene, live musical performances, and notable street art make the Five Points district a great spot to visit in the evening. There are lots of lodging alternatives in Colorado's capital city, ranging from expensive hotels like the Four Seasons Hotel Denver to more budget-friendly ones.
Location: Denver Colorado, USA
Visit the Ghost Towns
Colorado is littered with abandoned communities, many of which were left desolate due to early 1900s mining battles. Nowadays, visitors may see what's left of these ghost towns and get a personal glimpse at Colorado's unique heritage. St. Elmo is roughly 80 miles southeast of Aspen and 110 miles west of Colorado Springs and is one of the state's most popular ghost towns. A saloon, a jail, and roughly 40 additional intact structures that were abandoned in the 1920s can be found here. Many people recommend visiting St. Elmo to learn about the state's silver and gold miners, and others recommend purchasing mementos from the still-open general store (open seasonally). If you're staying in Aspen, you may visit Independence Ghost Town, which features abandoned stables, an old general store, and the ruins of homes. Because of its elevation of 11,000 feet, this town receives a significant amount of snow each year and is only accessible during the summer months. Visitors can either roam around on their own or join a formal tour led by Aspen Historical Society members. (A docent is usually on hand between the middle of June and the beginning of September.) Visitors have commented that trekking through the abandoned buildings and learning about the town's history via the informative placards was a highlight of their visit.
This late-nineteenth-century mining town in southwestern Colorado has retained its Wild West appeal to this day. The main street is lined with charming shops and restaurants against the spectacular background of the San Juan Mountains. There aren't many fast-food restaurants or chain stores in this town, but there are plenty of outdoor activities. Telluride Ski Resort, which has practically all of the frills of Aspen and Vail but with fewer crowds, is a notable skiing choice in town. The free gondola ride will take you on a magnificent excursion across the mountains, which is also a terrific activity. While there are several winter activities to be had, it is the spring, summer, and fall months that distinguish this town. Telluride boasts a vibrant arts area and is a festival hotspot. The Telluride Bluegrass Festival, Telluride Jazz Festival, and Telluride Film Festival are among the most well-known, but the town stages a variety of additional events throughout the year. Telluride's small-town atmosphere and history appeal to visitors, and several say they felt like natives by the conclusion of their stay.
Location: TellurideColorado 81435, USA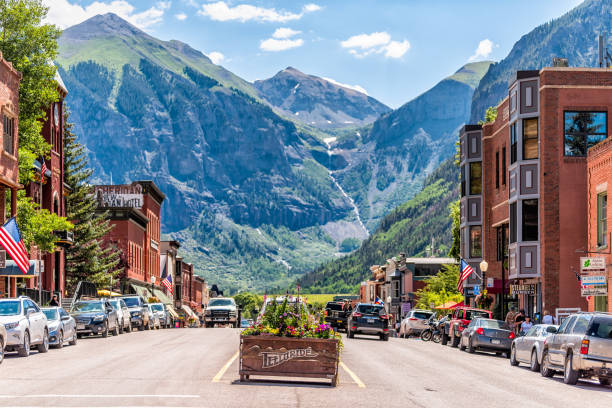 Manitou Springs is a town in the state of Colorado
When you visit Manitou Springs, Colorado, you can feel the joys of nature in abundance. It's one of the most picturesque spots in the state. If you're seeking fun things to do in Colorado, Manitou Springs is the place to go.
Manitou Springs is a small alpine town near Colorado Springs. It's one of the state's most fascinating locations.
Despite its small size in terms of both space and population, there is plenty to keep you entertained.
There are plenty of outdoor activities, such as ziplining and fishing, as well as inside activities, such as visiting art galleries. In Manitou Springs, there are numerous places of interest to visit.
You should be able to see why it appeals to so many individuals.
A place like Manitou Springs might feel like a true retreat when you've been overwhelmed by hectic city environs that aren't doing anything for your mind but crowding it.
You can enjoy fun adventures you've never had before when you visit Manitou Springs.
It's one of Colorado's most exciting destinations, as well as one of the most restful.
This is the kind of environment where you may make and keep memories.
Defeat the Flatirons
Hiking the Flatirons is a must if you ever find yourself in Boulder. There are miles of hiking trails intermingled with these massive sandstone peaks, offering options for hikers of all skill levels. The Flatirons have a numbering system that ranges from one to five. The 2.7-mile loop that connects the First and Second Flatiron Trails is hard yet beneficial in terms of views of the city and surrounding area. According to previous hikers, the Second and Third Flatiron Trails (2.2 miles) are likewise intermediate to challenging, but the trail's natural splendor fascinates visitors. The McClintock Trail or the Enchanted Mesa Trail are good options for those looking for a shorter trip with spectacular views. Climbers will enjoy the opportunity to ascend the rocks, with popular routes on the First and Third Flatirons. If you need help navigating these well-known rock climbing places, there are also guided climbs available. The Chautauqua Trailhead is the starting point for most hikes, and it also has a large park area where you may relax and admire the Flatirons if you're not in the mood to climb or hike. The Chautauqua Trailhead is located just south of downtown Boulder, so you can refuel after your hike.
Trail Ridge Road
Don't miss the opportunity to drive Trail Ridge Road if you visit Rocky Mountain, National Park. Trail Ridge, at over 12,000 feet, provides a whole new meaning to the phrase "going the high road." From Estes Park in the east to Grand Lake in the west, it stretches about 50 kilometers. It is recognized for being the country's highest continuous paved road. Visitors say the road is properly maintained, but that doesn't mean it isn't dangerous: Your stomach may turn as a result of the twisting curves and abrupt drops. The expansive views, stunning mountains, and likely wildlife sightings, however, are said to be worth the risk of height-induced anxiety by the majority of tourists. At the several approved pull-over sites along the road, drivers will appreciate the opportunity to get out of the automobile and observe the scenery. Allow yourself around five hours to complete the drive, but feel free to take your time and enjoy the scenery. Because of the dangerous winter weather conditions, the route is only open from May to October; even in the summer, weather is unpredictable, therefore pay particular attention to weather warnings before setting out. Expect to pay $25 per car to enter Rocky Mountain National Park because the road is located within the park.
Colorado State Fair
Make your trip to Colorado coincide with the Colorado State Fair in Pueblo if you appreciate live music, farm animals, carnival rides, and fried cuisine. The annual family-friendly event takes place from late August to early September and attracts approximately half a million visitors. Traditional rodeos will be held, as well as live performances by nationally famous musicians. Car enthusiasts will also appreciate watching derbies and monster truck shows. In 1872, the first fair of its kind was held in Pueblo, a city 45 miles southeast of Colorado Springs, to commemorate the area's history and agricultural influences. The fair is still held on the city's 100-acre fairground today. If you plan on staying the night, a hotel in Pueblo's downtown area is a good option. There is no single admission fee to the fair, but you must purchase individual tickets for each event, such as concerts or rodeos. Tickets can be purchased in advance online.
Summit Pikes Peak
Pikes Peak rises more than 14,000 feet above the surrounding peaks in the southern Front Range of the Rocky Mountains, looming over them. This magnificent mountain, about 30 miles west of Colorado Springs, has been the inspiration for numerous stories and songs, including "America the Beautiful." The mountain can be climbed in a variety of methods. The most convenient way to reach the summit is by car, which takes about three or four hours. On the climb up, there are numerous opportunities to stop and take in the scenery. The Broadmoor Manitou and Pikes Peak Cog Railway is another popular way to get to the top. The railway carries travelers up the mountain in a little more than an hour, providing stunning views (the altitude may literally take your breath away). Passengers can take in the scenery for around 40 minutes at the summit before taking the train back down. Tickets for this round-trip ride can be purchased in advance online. The final ascent of the peak is on foot. The Barr Trail should only be attempted by the most experienced hikers and motorcyclists. If you decide to take this hike, make sure you have lots of food for the eight to fourteen-hour journey ahead of time. Once you reach the summit and see the spectacular views of Colorado Springs and the surrounding area, the 13.5-mile journey will be well worth it.
Memorial to Father Goose
The Fort Collins Museum of Discovery's Archive. You're in for a tremendous treat if you've never heard of Father Goose.
He was a man from Fort Collins, Colorado, who is credited with establishing geese as a significant presence in the state.
You may discover all about this Colorado legend at the Father Goose Memorial. In 1957, Gurney Crawford introduced Canadian geese to Colorado. He worked for the Colorado Department of Fish and Wildlife and was able to incubate goose eggs in Denver. Since then, geese have flocked to Fort Collins in large numbers.
It exemplifies how a single individual can make a difference and continue to do so even after they have passed away. Father Goose had a huge impact on Fort Collins, and this tribute exemplifies how far his legacy has spread. Pay your respects at this memorial.
Who knows, maybe some geese are doing the same thing as you.
3180 Rampart Rd, Fort Collins, CO 80521, United States of America
Vail
Vail, Colorado, is known for its superb skiing, but it's also a great spot to relax and be pampered. During the day, visit Kemo Sabe for authentic leather, Axel's for innovative apparel designs, or enjoy a quiet stroll through the beautifully planted Betty Ford Alpine Gardens. Wine tastings in the afternoon at 4 Eagle Ranch or Root & Flower will make your day extra special. Splurge on expensive Japanese meals at Matsuhisa or contemporary American faves at Sweet Basil when the evening arrives. Vail also has a plethora of opulent lodging alternatives. Book a stay at the European-inspired Sonnenalp Hotel if you're seeking for top-notch spa services. Massages, body treatments, scrubs, hydrofacials, indoor and outdoor whirlpools, and even an oxygen bar are all available at the on-site spa. Consider staying at the Four Seasons Resort and Residences Vail, where accommodations may have expansive living room areas, comfy furnishings, and gas fireplaces, as well as mountain views.
Pepsi Center
The Pepsi Center is located in downtown Pepsi. The Pepsi Center in Denver is another fantastic Colorado arena.
The Denver Nuggets NBA club, as well as the Colorado Avalanche and Mammoth hockey and lacrosse teams, play here. You may also expect to witness some fantastic concert acts while you're here. Post Malone, Taylor Swift, Bon Jovi, and Bruce Springsteen are among the notable names who have performed at the Pepsi Center. It's a massive venue that's perfect for massive acts.
Being here can be one of the most thrilling things you do in Colorado. The Pepsi Center is a fantastic place to be whether you're seeing a professional sports team at work or seeing a chart-topping singer fascinate a crowd.
Even in a crowd of tens of thousands, you can still feel unique. In many respects, it's a fantastic experience. Get your tickets as soon as possible for whichever events you can.
1000 Chopper Cir, Denver, CO 80204, United States of America
Mural of the Pueblo Levee
One of Colorado's best art exhibits isn't in a museum. The Pueblo Levee Mural, on the other hand, holds the world record for the longest painting. This is one of Colorado's most inspiring places to visit.
The Pueblo Levee Mural is popular because of what it represents. It all started with some graffiti in the 1970s and has grown into one of the most spectacular artistic works on the planet.
This and other tourist attractions are what make this state so special. The Pueblo Levee Mural is three miles long, but its influence lasts far longer. Make an effort to see as much of the mural as possible. It exemplifies how much can be accomplished when people collaborate to create something unique.
Dinosaur National Monument
Dinosaur National Monument is a national park dedicated to dinosaurs.
The preserved fossils and natural wonders at Dinosaur National Monument, which straddles the Colorado-Utah border, will astonish both children and adults. Dinosaurs once roamed this rough environment of mountains, canyons, and rivers, and tourists can find evidence of their presence in the rocks. The on-site Quarry Exhibit Hall, which shows over 1,500 bones from several sorts of dinosaurs, is a big favorite with kids. Hands-on fossil exhibits make learning fun, while murals bring the region to life. Visitors can observe petroglyphs created hundreds of years ago by members of the Fremont Indian Tribe, which include pictures of humans and animals, as well as more abstract subjects. There is plenty of outdoor pleasure to be experienced outside of the museum sections. Hiking routes lead from visitor centers to vistas that offer panoramic views of the desert terrain. The 3-mile Sound of Silence trail and the short 1.2-mile Fossil Discovery trail are two popular options; off-track hiking is also permitted in the protected area. Cycling and horseback riding are excellent ways to see the national monument. The fee of admission to Dinosaur National Monument is $25 per vehicle. Visitors have warned that the monument in northwestern Colorado is a long way from other attractions – it's more than 80 miles west of Steamboat Springs – but that it's well worth the trip.
Balcony House and Cliff Palace
In Colorado, there are a plethora of fantastic sightseeing possibilities. Cliff Palace and Balcony House are both beautiful and entertaining. This is where the Puebloans used to dwell hundreds of years ago.
It's one of the nicest things to do in the area, especially if you're interested in anthropology. If you have the opportunity, you should visit Cliff Palace and Balcony House. These were built within cliffs and were extremely well-built, letting many people dwell at once while being safe from outside attacks.
However, you must exercise caution when visiting these attractions. The tours must be led by a ranger, and you must ensure that you are following all of their instructions to the letter. There's simply too much at stake on these sites to risk being even somewhat sloppy. Cliff Palace and Balcony House are located in one of Colorado's most beautiful areas.
Cliff Palace Loop Road is open daily from 8 a.m. to midnight. All visitors must pay $7 to participate in the tour.
Cliff Palace Loop, Mesa Verde National Park, CO 81330, United States of America
Aspen – Skiing
In Aspen, you may go skiing.
Every year, millions of people flock to this town in central Colorado for the great skiing conditions and vast slopes. One of Aspen's most prominent attractions is Aspen Snowmass, one of the country's largest ski resorts. The resort has many chairlifts and 150 miles of terrain, making it an excellent intermediate and advanced ski destination. There are also some novice trails and many options for instruction; previous guests praised the mountain resort's friendly instructors. If Aspen Snowmass is too much for you, try Buttermilk Mountain's 44 trails or Aspen Mountain's 76 trails. Even if you aren't a skier, the après-ski scene in Aspen is worth seeing. After a day on the slopes, skiers flock to the town's bars, taverns, and luxury eateries. The Little Nell and Hotel Jerome, Auberge Resorts Collection, are two award-winning hotels in the area where guests may stay near to the slopes for an extra simple ski day.
Colorado Opera
Colorado has a plethora of cultural activities.
Opera Colorado concerts are one of the best ways to experience art.
The Ellie Caulkins Opera House in Denver is bursting at the seams with passion and beauty. Even if you've never been to an opera before, you must attend one of these performances. Despite the fact that two operas are produced each year, Opera Colorado offers a variety of additional performances and programming.
Recitals and dialogues with illustrious personalities are examples of this. If you're seeking an enriching experience, this is one of the best. Opera Colorado is proof that Colorado is a culturally diverse state. Others who are familiar with opera, as well as those who are unfamiliar with the art form, can both appreciate these shows.
Hopefully, you'll be able to catch a performance at the Ellie Caulkins Opera House during your visit. It's a great excuse to get dressed up and acknowledge that you're a member of the elite, whether you realize it or not. Anyone with even a smidgeon of curiosity should take the time to learn about this art form.
Address: 1385 Curtis Street, Denver, CO 80204, United States
Black Canyon
The Black Canyon is located in the United States. For outdoor enthusiasts, Colorado is a dream come true. Seeing Black Canyon is one of the most enjoyable things to do in Colorado. This is undoubtedly one of the most interesting locations in the western United States. The Gunnison River took millions of years to form Black Canyon.
It's what you should look for if you want to be truly impressed. This canyon is full of breathtaking heights and breathtaking views. If you want to go camping, it's also one of the best places to visit.
You'll be immersed in nature in a profound way. Even when looking at the most professional images available, Black Cannon's beauty is difficult to comprehend.
The best way to view it is to go see it in person. You'll most likely be astounded by what a natural triumph this is.
Rafting: Whitewater River
Go rafting on a whitewater river.
The Arkansas River, which begins in central Colorado and flows all the way to Arkansas, has 100 miles of fast-flowing water that is ideal for rafting. There are plenty of easy routes for first-time rafters or those wanting for a peaceful adventure, despite the fact that it may appear scary. Lower Browns Canyon has a few minor rapids with plenty of opportunities to take in the surroundings. A journey to Little Gore Canyon, on the other hand, is sure to be relaxing and may appeal to families with younger children. The Royal Gorge tour, on the other hand, is for thrill seekers searching for steep cliffs, massive splashes, and frequent rapids. For advanced rafters, the Pine Creek route, which starts near the Granite Gorge, is another challenging choice. Raft tour stations are found all along the river and are offered by a variety of tour businesses. So you won't be far from a rafting opportunity no matter where you stay in Colorado. There are single-day and multiday rafting trips available, depending on whatever operator you choose. To plan your trip, check out U.S. News' roundup of the finest whitewater rafting tours in Colorado.
Denver Arts Week
Denver Arts Week is a celebration of the arts in the city
Artists, filmmakers, performers, and others flock to Denver every November to show off their latest works. During this week, entire areas, such as the RiNo Art District, are converted into outdoor art museums, with artists painting vibrant murals on businesses and walls. Not to mention the Denver Film Festival, which features critically acclaimed films and a star-studded red carpet event, is one of Denver Art Week's most notable events. Hundreds of different activities are held throughout the week in the city. These events take place in both small galleries and large performing arts theaters throughout Denver. Art-related events are also featured at many museums, including the Denver Museum of Nature & Science. Night Lights Denver, which displays rotating art exhibits projected onto the side of a building, is one of the most popular nightly events (and luckily, this event occurs throughout the year, not just during Denver Arts Week). This is an excellent time to sample the capital city's diverse cultural offerings, as discounted tickets and special offers on art-related activities are available. If you visit during the event, you'll also be able to take advantage of special accommodation discounts at a number of locations.
Grand Lake
Grand Lake is one of Colorado's top places for swimming, fishing, boating, and sunbathing. This vast lake, Colorado's largest natural body of water, is less than 3 miles southeast of Rocky Mountain National Park's Grand Lake entrance and roughly 100 miles northwest of Denver. There are plenty of kids playing on the lake's sandy shores, parents sunbathing, and perhaps even a moose or two testings the waters. Visitors praise the area's well-kept condition and the designated picnic areas. Not to mention the breath-taking vista of the surrounding mountains reflected in the lake, which is sure to elevate your beach day. A marina is located on the lake, where tourists can rent motorboats or kayaks to explore the water. The Grand Lake Yacht Club is also nearby. Several cafes, restaurants, stores, and museums can be found in the small town surrounding the water, also known as Grand Lake. Even if you visit Grand Lake in the winter, there are plenty of activities to keep you occupied. When the lake freezes over, ice fishing and ice hockey are both popular activities.
Bishop's Castel
Bishop's Castle is a castle in Bishop, Although the United States was founded long after the heyday of castles, there are still some of these medieval-style wonders scattered across the country. Bishop Castle in Colorado is maybe the most spectacular of them all.
This is a significant structural feat as well as one of the most enjoyable tourist sites in the state. Bishop Castle is stunningly beautiful and steeped in history.
What began as a basic structure in the late 1960s has grown into the marvel it is today. This castle has a lot of interesting features, such as a stainless steel dragon that releases steam. Keep your phone on quiet and in your pocket to give the impression that you've traveled back in time. Bishop Castle is both entertaining and lovely. Weddings and other special occasions can also be held here.
It's open from 9 a.m. to 6 p.m. every day.
12705 CO-165, Rye, CO 81069, United States of America
Colorado Trail
The Colorado Trail is located in Colorado.
Given its 500-mile length, you may not be able to view the full Colorado Trail. It is, nevertheless, one of Colorado's most picturesque spots, as well as a lot of fun. This is an amazing example of how much nature contributes to Colorado's beauty.
If you have a special bond with nature, you must take a hike down the Colorado Trail. During your trek, you may come across the Rocky Mountains as well as some bodies of water. Considerable of these routes may require some climbing, so make sure you have the appropriate footwear and enough stamina before starting.
It's also a good idea to have enough water on hand. Consider having a large canteen with you on your journey.
If you enjoy being outside, you should check out the Colorado Trail. Make sure you bring all of the necessary items to ensure your safety and ability to comfortably complete your hike. It's a fantastic moment for a variety of reasons.
Fossil Area at Garden Park
The territory that is today known as Colorado was once teeming with dinosaurs before it was even discovered by humans.
Paleontologists at places like the Garden Park Fossil Area in Canon City, Colorado, have worked tirelessly to teach us about these vanished creatures.
This place, however, has a very distinct history, one that demonstrates exactly how damaging a desire for attention can be.
The "Dinosaur Wars" arose from a dispute between paleontologists Othniel Charles Marsh and Edward Drinker Cope at the close of the nineteenth century.
With so many specimens found here, these men did everything they could to sabotage each other.
Despite all of the mudslinging, tyrannosaurus and Stegosaurus skeletons, among others, have been discovered.
Who'd have guessed that millions of years after these creatures walked the world, fierce fights over their remnants would erupt?
Although there are no competitor paleontologists hunting for discovery in the Garden Park Fossil Area, it is nonetheless a fascinating portion of the state and the world.
Tours of the area are available to learn more about it.
It's astonishing to think of all the fantastic monsters that once roamed this land.
3501-3767 Garden Park Rd, Caon City, CO 81212, United States of America
Cart-Driver
Cart-Driver may sound like the name of a go-kart track, but it's actually one of Colorado's top restaurants.
This Denver restaurant has a fascinating past as well as delicious food. Come here for a good time and a tasty lunch.
It performs an excellent job of honoring tradition by taking its name from persons in Italy who brought ingredients to various locations. When you eat their pizza, you'll understand why.
It tastes like pizza should, with rich flavors that don't overpower each other. The Cart-Driver pizza, with sausage and kale, is one of the best. Your supper at Cart-Driver is likely to be one of the highlights of your trip. You may need to return a few times to sample the various pizzas. It's open from 4 p.m. to 9 p.m. on Sundays through Thursdays, and from 4 p.m. to 10 p.m. on Fridays and Saturdays.
2500 Larimer St #100, Denver, CO 80205, United States of America
National Grassland of the Comanche
Comanche National Grassland is one of Colorado's most beautiful spots, especially for nature enthusiasts.
Comanche National Grassland is a spectacular national park with a breathtaking landscape in every direction. It is beautiful and contains valuable historical information about the land's indigenous peoples. This park's grasslands add a lot of beautiful foliage to this hilly state.
Here are also some indigenous American artworks that have been preserved. You can camp overnight if you really want to see Comanche National Grassland and the scenery around it. When there isn't any light pollution, the stars can really shine and bring you to tears.
The value and beauty of Comanche National Grassland cannot be overstated. Whether you're just stopping by for a few hours or planning a multi-day camping trip, you should treat the area with care. A piece of land as valuable as this should never be taken for granted.
1420 E 3rd St, Pueblo, CO 81001, United States, is located about 100 miles south of Pueblo.
The Gods' Garden
You may have seen images of the Garden of the Gods but had no idea what it was or that it was in Colorado.
This is a National Natural Landmark with incredible sandstone structures that appear to be floating in space. If you're visiting Colorado, you must see these places. A visit to the Garden of the Gods can help you put things into perspective.
These natural wonders may dwarf you, but you don't have to be intimidated. Allow yourself to concentrate on what you see and how it impacts you on the inside and out. You might find that you can fix some problems for yourself without even realizing it. One of the most beautiful sites to visit is the Garden of the Gods.
Its visitor center is open from 9 a.m. to 3 p.m. Monday through Thursday, and from 9 a.m. to 5 p.m. on Fridays and Saturdays. The event is free to attend.
1805 N 30th St, Colorado Springs, CO 80904, United States of America
So how did you like this blog about Fun and the best things to do in Colorado? Please leave your review in the comment section below.
Read: 20 Best Places To Visit In Nepal